DataPro's new all-in-one Media Panel was specifically designed with the office or classroom in mind. It is designed to simplify what used to be a time-consuming, annoying task: connecting a computer, laptop, or game system to the provided equipment when you're on-the-go. With the Media Panel, everything you need is right in front of you: power, sound, video, phone, and internet. No more reaching behind video cabinets looking for connectors or tripping over cables running in every direction.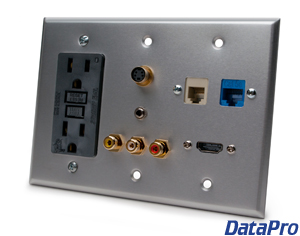 The Media Panel features connectors for three video interfaces: Composite red/white/yellow, S-Video, and HDMI 1.3a; so connecting to installed TVs, projectors, or even high-end HD plasma or LCD TVs is unbelievably easy. A standard 3.5 mm audio port is included for hooking into a sound system. The faceplate includes full network capability with a standard RJ11 phone line jack and a CAT5E ethernet port. Two power outlets with optional GFI protection give you convenient access for powering or charging your devices.
With the optional Ground Fault Interrupter (GFI) protection, the Media Panel includes a local circuit breaker which will disconnect if power flow exceeds safety limits. This prevents your home or office from shutting down an entire fuse, and can protect you and your equipment more effectively from faulty wiring and short circuits. The breaker can easily be reset by a button on the outlet.
The plate itself is made from rugged aluminum in a standard 3-gang size to mate with a standard 3-gang electrical box. Each cutout is precision CNC-milled and each connector is included.
Custom versions of the Media Panel are also available to suit your specific application.