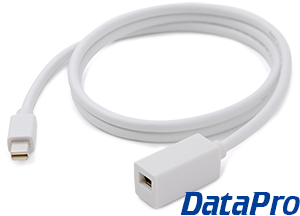 Our Mini-DisplayPort extension cables are here, and fully compatible with Apple LED Cinema Displays, Mac Pros, MacBooks, iMacs, and Mac Minis.
Since the widespread adoption of the connector by Apple Inc. (NASDAQ: AAPL) on their current lines of Apple LED Cinema Displays, Mac Pro and Mac Mini desktop computers, and MacBook laptop computers, the Mini-DisplayPort interface has become a central focus of future-oriented hardware manufacturing. Unfortunately for consumers, the flagship Apple Cinema Display monitors are only available with short non-removable Mini-DisplayPort plugs, forcing early adopters to keep their displays and computers in very close proximity.
DataPro International Inc., a longtime pioneer in cable design and manufacturing, today announced the availability of the first Mini-DisplayPort extension cables on the market, exclusively at our online store and Seattle store-front. These attractive white cables are low-profile and compatible with full-resolution DisplayPort video (2560x1600) and all Mini-DisplayPort adapters (HDMI, Dual-link DVI, Single-Link DVI, and VGA).
To use the iSight, microphone, speakers, and USB hub on the LED Cinema Display, DataPro also offers high-speed USB 2.0 extension cables.
Pricing & Availability
The DataPro Mini-DisplayPort extensions are available now and ship worldwide. The 6-foot, 10-foot, and 15-foot cables are priced at USD $35.00, $39.00, and $45.00, respectively. 3-foot extensions will be offered soon for $29.95.
About DataPro International
Since 1984, DataPro International has provided the widest selection of standard and custom-built interface cables in the world. With over 4000 cable pinouts on hand and decades of quality customer service, DataPro International is both pioneer of the newest technologies and a legacy supporter of the oldest ones. Among their offerings are a comprehensive line of panel-mounting cables, DVI and HDMI products, and custom-cut face-plates. DataPro International is based in Seattle, Washington, and offers its unique products to customers across the globe.