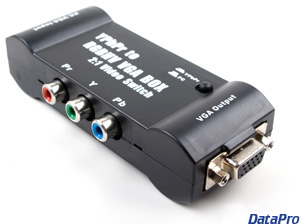 The Vdigi VD-Z3 was an extremely popular component-to-VGA converter, but it has been discontinued by Vdigi and will no longer be produced. Replacing the VD-Z3 in our product lineup has been a difficult task, since it was a high-quality product with excellent image quality.
After months of research, DataPro is proud to announce that our new CSV-955A exceeds the high quality that the VD-Z3 was known for! This new component-to-VGA converter supports 480p, 720p, 1080i, and now 1080p. It also uses a more natural gamma curve than the VD-Z3, preserving detail in shadowed and bright areas.
If you're looking for the discontinued Vdigi VD-Z3, try our new CSV-955A component to VGA converter instead!