The DataPro 1223-series is a 3.5mm stereo audio cable that features a panel-mount female connector both ends. These connectors have a removable mating ring to fasten them to any material up to 2.5mm (0.10") thick.
This cable is designed to patch two faceplates together, and can also be used in OEM constructions, bulkheads, and other types of installations. It is available in both stock and custom-built varieties, with custom assemblies shipping out in just 1-2 days.
This cable is used to provide a bulkhead or face-plate mountable extension cable for use with stereo audio, or other applications. All that's required on the mounting surface is a hole 1/4" in diameter.
The 3.5 mm connector is commonly referred to as a headphone connector, and is commonly found on computers and computer speakers, as well as CD players, MP3 players, and most headphones and headsets.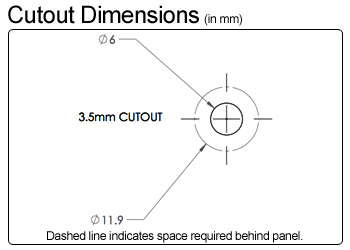 Click here for PDF version