When you've got remote equipment in a stereo cabinet, overhead rack, or gear closet, and you want to provide on-site audio input (or output), nothing beats a nice panelmount cable from DataPro. But sometimes the remote equipment is ready for dual RCA inputs, but you want to have 3.5mm stereo jacks in your panel or wall plate.
In that situation (which is actually really common, you know), this is the perfect device! This awesome cable was conceived and designed for exactly that scenario, and now it's available for you to purchase. Troubles, away!
This cable features a female 3.5mm wall-mount audio jack on one end, for direct installation into a panel, and two stero-channeled RCA connectors (one for left, one for right) on the other end.
These cables are specially designed to install in our 3.5mm audio face plates, but can be mounted in any 1/4" hole, in material up to 2.5mm (0.10") thick.
To extend a 3.5mm stereo cable without splitting to dual RCA connectors, see our stereo panelmount extension cable.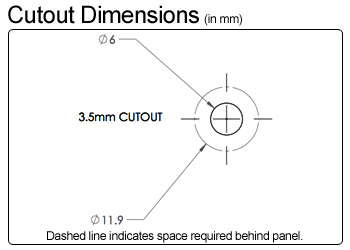 Click here for PDF version