---
Related Services:
---
Gallery

Check out some of the finished products we've made for our customers!



---
---
Quoting
To request a quote, just email us your requirements. For the quickest and most accurate quoting, please email our Sales department with the following vital pieces of information about your project:
Quantity
We have no minimum order quantity, but larger batches typically result in a lower per-unit price. Why not get some spares?
Material
We stock a variety of popular materials and in multiple thicknesses and colors. If you have a specific requirement that isn't listed here, email us!
Panel Corners
The corners of your panels can be left square, or milled into an angled or rounded shape.



Corners
Panel corners are squared by default, but can also be cut at a 45° angle, or rounded.

Edge Treatment
Depending on the material, the edges of a panel can be chamfered at a 45° angle, or milled into a rounded fillet. If you have a specific radius in mind, include that with your drawing. Otherwise, we can pick one that will work best with your chosen material.



Edges
The perimeter of the panel can be left square, chamfered at a 45° angle, or rounded into a fillet.

Anodizing & Finishing
Panels cut from bare aluminum can be anodized after milling, eliminating the silver edge seen on panels cut from pre-anodized aluminum. This is most economical for orders of multiple panels, as it incurs a minimum batch charge.

Due to standard manufacturing processes, panels will sometimes show small blemishes or imperfections on the non-display side of the unit. If you require consistent aesthetics on both the front and back of your panel, please let us know.
Engraving and Laser Marking
If desired, indicate the type (engraving or laser), exact placement, and copy on your drawing. If you have a preference for size or font, please include that as well. Otherwise we'll default to a sans-serif font at an appropriate size to fit.
Drawing
Please read carefully: To accurately quote a panel, we'll need a drawing that shows a few vital pieces of information about the project. Our engineers are happy to work with any kind of drawing you can provide (napkin sketches included), or we can create a professional production-quality drawing for a very competitive fee.

Quoted project costs include the time it takes to convert your drawing or model to a format we can use for manufacturing. For minimum design and conversion time, please submit your drawing in one of the following formats:



DXF
DWG
SLDPRT
STP/STEP
X_T/X_B
IDW
3DM



Your satisfaction is our #1 priority! So before manufacturing, we'll ask for your written sign-off on the final version of the drawing, to make sure you're getting exactly what you want. Once that's done, production can begin!

Please include the following information on your drawing:

Width and height of the panel
If your panel is an irregular shape, please include the lengths of each edge.
Size and location of mounting holes
We'll need to know the diameter and location of mounting holes.
Location of standard cutouts
Indicate roughly where you'd like your cutouts to be. If the location is specific, include its distance from two edges of the panel.
(Optional) Usable area of panel
This should indicate the area in the back of your panel in which components can be installed. It is generally within the perimeter of the mounting holes, and may be determined by the dimensions of the enclosure the panel will be mounted over.
(Optional) Dimensions, clearances, and locations of nonstandard cutouts
If your panel includes any cutouts that are not on our list of standard cutouts, please include as much information about them as possible. We may also request a sample of the connector that will be installed in the cutout.
---
---
Options
Marking & Labeling:
Finishing:
Accessories:
---
---
Materials
We're happy to recommend the perfect material for your project. If you've got something specific in mind, we stock a variety of common materials in multiple colors and thicknesses, and can source nearly anything with a very short turnaround. If you don't see what you're looking for here, just contact us.
---
---
Standard Cutouts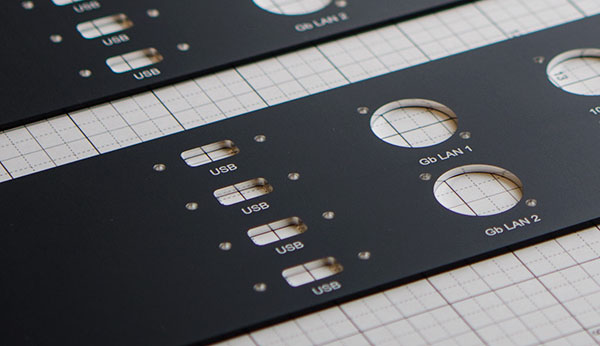 DataPro's standard plate and panel cutouts are designed to be compatible with our panel-mount cables and couplers.

Below you'll find a list of cutouts, their compatible components, and associated drawings. If you need something not listed here, please contact us!