This stereo panelmount coupler is an economical solution to installing a 3.5mm audio jack in a wall plate or custom enclosure.
It is a pass-through connector with a female 3.5mm jack on one end and a panel-mounting female 3.5mm jack on the other. There's not much else to be said about it, except that the additional connection is a potential vector for introducing noise and signal loss that would be avoided by using a panelmount audio cable directly.
These couplers are specially designed to install in our 3.5mm audio face plates, but can be mounted in any 1/4" hole, in material up to 2.5mm (0.10") thick.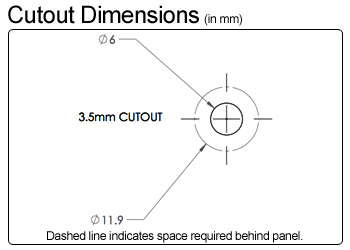 Click here for PDF version