HDMI Info and FAQ
DataPro Tech Info > HDMI Info and FAQ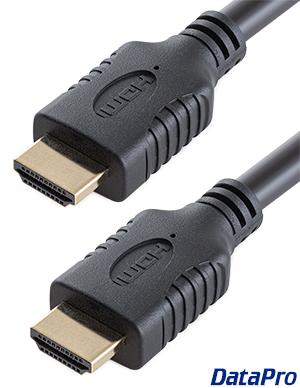 WHAT IS HDMI ?
HDMI stands for (H)igh (D)efinition (M)ultimedia (I)nterface.
In a constantly changing industry, HDMI is the current standard of an all-in-one, standardized, universal connector for audio/video applications. Featuring a modern design and backed by the biggest names in the electronic industry, HDMI is attempting to finally unify all digital media components with a single cable, remote, and interface.
HDMI is built with a 5 Gbps bandwidth limit, over twice that of HDTV (which runs at 2.2 Gbps), and is built forwards-compatible by offering unallocated pipeline for future technologies. The connectors are sliding contact (like FireWire and USB) instead of screw-on (like DVI), and are not nearly as bulky as most current video interfaces.
HDMI 1.3 further increases the bandwith limit to 10.2 Gbps, to allow for the video and audio improvements of the upgraded standard.
WHAT DOES HDMI REPLACE ?
The high bandwidth of HDMI is structured around delivering the best quality digital video and audio throughout your entertainment center. Capable of all international frequencies and resolutions, the HDMI cable is designed to replace all analog signals (i.e. S-Video, Component, Composite, and Coaxial), as well as HDTV digital signals (i.e. DVI, P&D, DFP), with no compromise in fidelity from the source.

Additionally, HDMI is capable of carrying up to 8 channels of digital-audio, replacing the old analog connections (RCA, 3.5mm) as well as optical formats (SPDIF, Toslink).
WHAT IS HDMI 1.3 ?
HDMI 1.3 is an improved specification for the HDMI standard, with upgrades to each of the HDMI components.

HDMI 1.3 offers a higher video throughput, at 340Mhz, to allow for higher resolution displays, Deep Color (up to 48-bit RGB or YCbCr color depths), and the new Dolby standards for lossless compressed high-definition audio.

The HDMI 1.3 specification also designates the use of a smaller connector than the original HDMI connector, dubbed 'Mini HDMI'. They are both similar in appearance, but the HDMI Mini plug measures about half the size.

HDMI 1.3 is already available in commercial products, having started with the release of the Sony Playstation 3 and various Blu-Ray players. Models of DVD players, high-definition displays, and AV receivers released since 2008 are also being designed with HDMI 1.3 connectors.
WHAT CAN HDMI BE USED WITH ?
To function as an all-inclusive interface, HDMI is being implemented in virtually all multimedia devices, from HDTV's and DVD players to computers and stereo receivers. It is compatible with DVI products and can be converted with a simple adaptor plug.

HDMI and HDMI 1.3 are also entirely cross-compatible, and can be easily connected with a mixed-connector cable.
WHEN WILL HDMI BE AVAILABLE ?
HDMI is already permeating the home theater market, and is on most every HDTV, DVD player, and receiver available today. It has become the standard for entertainment solutions, but has made relatively little progress in the computer industry (still dominated by DVI).

The newest kid on the block, the open-market DisplayPort connector, is looking to overthrow both DVI (in the computer industry) and HDMI (in the home theater industry), but is complicated by it's faux backward-compatibility with the two standards.
---
Written by Anthony van Winkle for DataPro International Inc.
Unauthorized duplication strictly prohibited.
Last Updated: 30 October 2008
© 1986-2015 DataPro International Inc