Wall Plates & Panels
DataPro Product Catalog > Wall Plates & Panels




Terminate your wire runs cleanly and easily with our complete line of wall plate products. With our wide variety of configurations, these easy-to-install plates give you access to your computers and devices like never before, all in the standard size of a low-voltage gang box.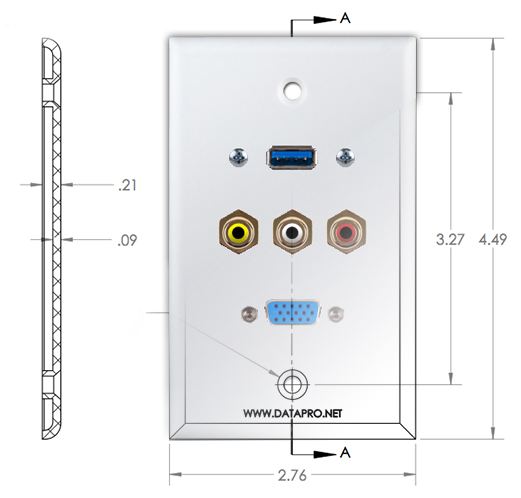 From boardrooms to home theaters, industrial vehicles to boats large and small, our faceplates provide clean and organized ports wherever you need them. And in combination with our unbeatable range of panel-mount cables, even the most involved wiring scenarios can be solved attractively and affordably.

All of our plates are machined here in our Seattle shop, precision-cut by industrial CNC mills and hand-inspected by our machinists for cleanliness and detail. Because we design and cut them ourselves, we can offer these plates with higher quality and lower cost than our competitors, and with unbelievable turnaround.

Just need one plate, or a dozen? Those will ship within 24 hours. Need to place a large volume order? Our shop is capable of producing hundreds of plates per day, so we'll still ship your order within days, not weeks.

For more information on our wall plate and panel-mount cable possibilities, take a look at our Wall Plate Information Guide.

Need something special? Try our Custom Plate Designer and make it exactly how you want it!




| Wall Plates & Panels | > | USB & FireWire Wall Plates |
| --- | --- | --- |
| | | Install ports for most every peripheral on the market with our wide selection of USB and IEEE-1394 face plates. |
| | > | VGA Wall Plates |
| | | Running video to mounted monitors, televisions, and projectors is no longer a problem, thanks to our full line of VGA face plates. They also work for 9-pin connectors in RS232 serial applications. |
| | > | DVI, HDMI, & DisplayPort Wall Plates |
| | | Installing flat-panel displays has never been easier or more convenient! We carry various combinations of DVI and HDMI cutouts on plates to match your needs. |
| | > | RCA & Audio Wall Plates |
| | | Perfect for home theater and multimedia installations, our attractive RCA and 3.5mm plates offer instant ports for media panels—without on-site termination! |
| | > | PS2 & Parallel Wall Plates |
| | | Access to remote computers and KVM switches is easy to install when using any of our numerous PS2 bulkhead mounting plates. |
| | > | Mounts & Boxes |
| | | In-wall boxes, frames, and other mounting and installation devices. |
| | > | Kits, Chargers, & Electronics |
| | | Pre-assembled Media Panels, USB outlets, and electronics. |
| | > | Keystone & Ethernet |
| | | Ethernet plates compatible with our panel-mount Ethernet cables, as well as Keystone plates. |
| | > | European Wall Plates |
| | | Euro and UK style wallplates |
| | > | Horizontal Wall Plates |
| | | For special applications, our horizontal plates offer a flexible solution for problems that cannot be solved with a standard form-factor plate. |
| | > | 4x4 Industrial Wall Plates |
| | > | Blank Wall Plates and Face Plates |
| | | Can't find what you're looking for in our stock wall-plates? DataPro's many varieties of blank plates give you the ability to create exactly what you need! |
---

7001
Wall Plate with Grommet Hole
Starting at
$9.95
The 7001 series of wall plates are simple wiring solutions for out-of-site installations. They feature a circular cut hole in the middle and a protective rubber grommet. This is an ideal solution for cleaning up wiring holes when panel-mounting terminals is impracticle or impossible.

---

700200
Faceplate with 2-inch Grommet Cutout
Starting at
$9.95
The 7002 series of wall plates are a great solution for simplified cleanup of cabling jobs. They feature an elongated 2" cutout to easily fit large connectors like DVI, and include a molded rubber grommet to prevent snagging.

---

70B00
BNC Wall-Plate
Starting at
$9.95
The DataPro 70B00 Wall Plate allows you to easily route AV and data connections in your home, office, theater, boat, or other locations.

---

70B0B
Dual BNC Wall-Plate
Starting at
$9.95
The DataPro 70B0B Wall Plate allows you to easily route AV and data connections in your home, office, theater, boat, or other locations.

---

BX-005
Table Top Pop-Up AV Connectivity Box With Custom Panel
Starting at
$195.00
Add connectivity to your conference room or other table with this customizable pop-up AV box

---

CUSTOM_P
Custom Wall Plates
Get the ports you want, where you want! Use DataPro's Custom Wall Plate Designer to build and configure a wall plate online. Choose from ABS plastic or metal; including aluminum, stainless, brass, and more!

---

SCREWS
Mounting Screws
Starting at
$0.50
Add style and functionality to your wall plate or custom panel with a set of screws. We carry a variety of alternate colors, materials, and styles -- even tamper-resistant!