HP All-In-One Desktop Secondary Monitor Setup
DataPro Tech Info > HP All-In-One Desktop Secondary Monitor Setup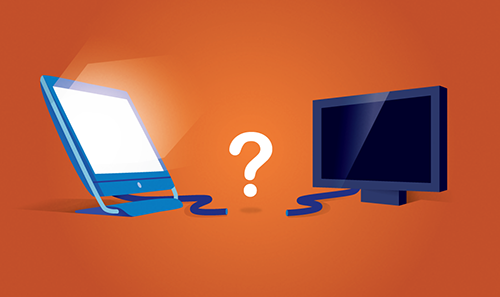 Many models of HP All-In-One (AIO) desktop have no obvious way to connect a second monitor due to the lack of video ports, and models such as the HP Envy 23" and 27" have an input-only HDMI port. But don't worry, you can output video through the USB ports on your HP all-in-one desktop! Here's how:
First you'll need a USB 3.0 to Video Adapter (USB 3.0 A to B cable included).
Connect your computer to the USB to Video Adapter with your USB cable.
Depending on the inputs available on your second monitor, connect it to the USB to Video Adapter with an HDMI, DVI-D or DVI to VGA cable.
Didn't work? Have a different type of All-In-One? We've got more information below!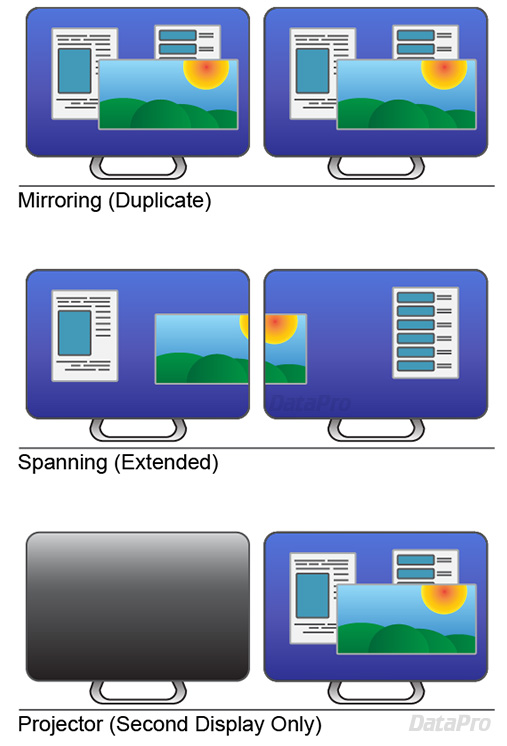 To connect a second monitor to your All-In-One, all you'll need is the appropriate video cable. If your monitor's inputs are different from the output of your AIO, you may also need an adapter to convert the format into one compatible with your monitor.



Generally speaking, external monitors can be used in one of three modes:
Duplicate: Displays the same image on all displays (also called mirroring.)
Extend: Combines all displays into one shared workspace (also called spanning)
Projector: Displays an image on the external display, while disabling the built-in display
These can be selected from within OS Display Settings in
Windows
or
macOS
.
Try restarting all involved devices


Make sure all cabling and hardware is undamaged


Check compatibility between all components. Keep in mind that just because a format can be physically adapted doesn't necessarily mean the signal is compatible.


Some adapters only work in one direction. For example, DisplayPort to HDMI, or DVI to VGA.


Make sure your software is up to date and properly configured - both the operating system and firmware. A firmware update from the manufacturer can sometimes resolve hardware issues.
If your HDMI port is an "Input" port, it cannot be used to connect an external display, but is intended to allow the use of the All-In-One itself as a display. In this case you can use a
USB Display Adapter
to connect an external monitor. These connect to a USB port, and provide one or more connections for external displays. Although these are typically less capable at 3D tasks, they can run desktop applications and full screen video.
If your All-In-One does not have an HDMI-In port, it may have another type of input, such as DisplayPort or USB-C.


The source button is sometimes located on the bottom or back of the computer.


If your AIO does not have an input port, it cannot be used as an external or second monitor. Click here for information about the capabilities of specific models.
The HDMI port on some models of HP all-in-one desktops is for input only. This is handy for when you want to use your desktop as a display for another device such as a video game console or DVD player, but it can preclude the use of a second monitor.

On the HP Envy all-in-one desktop, for example, the "HDMI IN" port is located on the lower left hand side of the monitor. To use it, just plug in your HDMI output device and switch the computer from PC mode to HDMI mode using the HDMI IN button under the bottom left hand side of the display. To change back to PC mode, just hold the HDMI IN button.
Although advertised as a capability, a number of HP Envy systems of various types appear to to be unable to output video through their USB-C port.

In some cases this can be due to a limitation of the hardware. Alt Modes are used to transmit native HDMI or DisplayPort signals over a USB-C cable, and allow for it to be directly connected to a display. However to enable this feature, the computer must have the appropriate hardware. Some HP Envy systems only support the DisplayPort alt mode, and must be used with DisplayPort displays, or adapted to the proper format.

In other cases it appears that the USB-C port is not capable of video output at all. This may be due to hardware issues, or may be caused by a driver or firmware incompatibility.

HP does guarantee that any USB-C port advertised as "Thunderbolt 3" compatible will support standard Alt Modes, and can be adapted directly to HDMI or DisplayPort.

If your USB-C port doesn't appear capable of outputting video, you're not out of luck! You can still use an active USB to video adapter.



Generally speaking, an adapter is only necessary if the format of your source and display differ. If your AIO is not capable of outputting a video signal, you may benefit from a
USB Display Adapter
.
As luck would have it, we do. This chart shows which models have video in/out capability, and whether they have a source select button.
| | | | |
| --- | --- | --- | --- |
| Type | Series | HDMI In/Out/Both/None | Input Select Button Yes/No |
| Pavilion | 20-A100 | None | N/A |
| Pavilion | 20-A200 | None | N/A |
| Pavilion | 20-B000 | None | N/A |
| Pavilion | 20-B100 | None | N/A |
| Pavilion | 20-B200 | None | N/A |
| Pavilion | 20-B300 | None | N/A |
| Pavilion | 20-B400 | None | N/A |
| Pavilion TouchSmart | 20-F400 | None | N/A |
| Pavilion Touch | 20-F300 | None | N/A |
| Pavilion TouchSmart | 20-F200 | None | N/A |
| Pavilion TouchSmart | 20-F300 | None | N/A |
| Pavilion | 21-A000 | None | N/A |
| Pavilion | 21-A200 | None | N/A |
| Pavilion Touch | 21-H000 | None | N/A |
| Pavilion TouchSmart | 21-H000 | None | N/A |
| Pavilion TouchSmart | 21-H100 | None | N/A |
| Pavilion Touch | 22-A000 | Out | N/A |
| Pavilion Touch | 22-A100 | Out | N/A |
| Pavilion Touch | 22-A200 | Out | N/A |
| Pavilion TouchSmart | 22-H000 | None | N/A |
| Pavilion TouchSmart | 22-H100 | None | N/A |
| Pavilion | 23-1000 | None | N/A |
| Pavilion | 23-A000 | None | N/A |
| Pavilion | 23-A200 | None | N/A |
| Pavilion | 23-A300 | None | N/A |
| Pavilion | 23-B000 | None | N/A |
| Pavilion | 23-B100 | None | N/A |
| Pavilion | 23-B200 | None | N/A |
| Pavilion | 23-B300 | None | N/A |
| Pavilion | 23-B400 | None | N/A |
| Pavilion TouchSmart | 23-F400 | None | N/A |
| Pavilion | 23-G000 | None | N/A |
| Pavilion | 23-G100 | None | N/A |
| Pavilion | 23-G200 | None | N/A |
| Pavilion | 23-G300 | None | N/A |
| Pavilion Touch | 23-H000 | None | N/A |
| Pavilion TouchSmart | 23-H000 | None | N/A |
| Pavilion Touch | 23-H100 | None | N/A |
| Pavilion TouchSmart | 23-H100 | None | N/A |
| Pavilion | 23-P000 | None | N/A |
| Pavilion | 23-P100 | None | N/A |
| Pavilion | 23-P200 | None | N/A |
| Pavilion | 23-Q000 | Out | N/A |
| Pavilion Touch | 23-Q000 | Out | N/A |
| Pavilion | 23-Q100 | Out | N/A |
| Pavilion Touch | 23-Q100 | Out | N/A |
| Pavilion | 23-Q200 | Out | N/A |
| Pavilion Touch | 23-F200 | None | N/A |
| Pavilion Touch | 23-F300 | None | N/A |
| Pavilion TouchSmart | 23-F200 | None | N/A |
| Pavilion TouchSmart | 23-F300 | None | N/A |
| Pavilion TouchSmart | 23-F400 | None | N/A |
| Pavilion | 24-A000 | Out | N/A |
| Pavilion | 24-A100 | Out | N/A |
| Pavilion | 24-A200 | Out | N/A |
| Pavilion | 24-B000 | Out | N/A |
| Pavilion Touch | 24-B000 | Out | N/A |
| Pavilion | 24-B100 | Out | N/A |
| Pavilion | 24-B200 | Out | N/A |
| Pavilion | 24-Q200 | Out | N/A |
| Pavilion | 24-R000 | Both | Yes |
| Pavilion | 24-X000 | Both | Yes |
| Pavilion | 27-A000 | Out | N/A |
| Pavilion Touch | 27-A000 | Out | N/A |
| Pavilion | 27-A100 | Out | N/A |
| Pavilion | 27-N000 | Out | N/A |
| Pavilion TouchSmart | 27-N000 | Out | N/A |
| Pavilion Touch | 27-N100 | Out | N/A |
| Pavilion | 27-N200 | Out | N/A |
| Pavilion Touch | 27-N200 | Out | N/A |
| Pavilion | 27-Q | Out | N/A |
| Pavilion | 27-R000 | Both | Yes |
| Pavilion | MS200 | None | N/A |
| Pavilion | MS210 | None | N/A |
| Pavilion | MS220 | None | N/A |
| Pavilion | MS230 | None | N/A |
| ENVY Touch | 20-D000 | None | N/A |
| ENVY TouchSmart | 20-D000 | None | N/A |
| ENVY TouchSmart | 20-D200 | None | N/A |
| ENVY Rove | 20-K000 | None | N/A |
| ENVY Rove | 20-K100 | None | N/A |
| ENVY Rove | 20-K200 | None | N/A |
| ENVY | 23-1000 | None | N/A |
| ENVY | 23-C000 | None | N/A |
| ENVY | 23-C100 | None | N/A |
| ENVY Touch | 23-D000 | None | N/A |
| ENVY TouchSmart | 23-D000 | None | N/A |
| ENVY TouchSmart | 23-D100 | None | N/A |
| ENVY TouchSmart | 23-D200 | None | N/A |
| ENVY | 23-O000 | In | Yes |
| ENVY Recline TouchSmart | 23-K000 | In | Yes |
| ENVY Recline TouchSmart | 23-K100 | In | Yes |
| ENVY Recline TouchSmart | 23-K200 | In | Yes |
| ENVY Recline Touch | 23-K300 | In | Yes |
| ENVY Recline TouchSmart | 23-K300 | In | Yes |
| ENVY Recline TouchSmart | 23-K400 | In | Yes |
| ENVY Recline Touch Beats SE | 23-M100 | In | Yes |
| ENVY Recline TouchSmart Beats SE | 23-M100 | In | Yes |
| ENVY Recline TouchSmart Beats SE | 23-M200 | In | Yes |
| ENVY TouchSmart | 23SE-D300 | Model Dependent | Model Dependent |
| ENVY TouchSmart | 23SE-D400 | Model Dependent | Model Dependent |
| ENVY | 24-N000 | Both | Yes |
| ENVY Touch | 24-N000 | Both | Yes |
| ENVY Touch | 24-N100 | Both | Yes |
| ENVY Touch | 24-N200 | Both | Yes |
| ENVY | 27-B000 | Both | Yes |
| ENVY | 27-B100 | Both | Yes |
| ENVY Touch | 27-P000 | Both | Yes |
| ENVY Touch | 27-P100 | Both | Yes |
| ENVY Touch | 27-P200 | Both | Yes |
| ENVY Recline TouchSmart | 27-K000 | In | Yes |
| ENVY Recline Touch | 27-K100 | In | Yes |
| ENVY Recline TouchSmart | 27-K100 | In | Yes |
| ENVY Recline TouchSmart | 27-K200 | In | Yes |
| ENVY Recline Touch | 27-K300 | In | Yes |
| ENVY Recline TouchSmart | 27-K300 | In | Yes |
| ENVY Recline TouchSmart | 27-K400 | In | Yes |
| ENVY Recline Pro | 27 | In | Yes |
| ENVY Touch | 27-K000 | In | Yes |
| ENVY Curved | 34-A000 | Both | No |
| ENVY Curved | 34-A100 | Both | No |
| ENVY Curved | 34-A200 | Both | No |
| ENVY Curved | 34-B000 | Both | Yes |
| ENVY Curved | 34-A300 | Both | Yes |
| Spectre ONE | 23-E000 | In | No |
| Spectre ONE | 23-E200 | In | No |
| Sprout | | Out | N/A |
| Sprout Pro | | Out | N/A |
| Sprout Pro G2 | | Out | N/A |
| Slate | 17-L000 | Out | N/A |
| Slate Pro | 21 | Out | N/A |
| Slate | 21-K100 | None | N/A |
| Slate | 21-S100 | None | N/A |
| EliteOne Touch | 705 G2 | None | N/A |
| EliteOne Non-Touch | 800 G1 | None | N/A |
| EliteOne | 800 G1 | None | N/A |
| EliteOne Non-Touch | 800 G2 | None | N/A |
| EliteOne Touch | 800 G2 | None | N/A |
| EliteOne Non-Touch | 800 G3 | Out | N/A |
| EliteOne Touch | 300 G3 | Out | N/A |
| EliteOne | 1000 G1 | Out | N/A |
| EliteOne Touch | 1000 G1 | Out | N/A |
| EliteOne 4kUHD | 1000 G1 | Out | N/A |
| Pro | 1005 | None | N/A |
| Pro | 3420 | None | N/A |
| Pro | 3520 | None | N/A |
| Pro MS200 | 216BR | None | N/A |
| Pro MS200 | 218 | None | N/A |
| Pro MS200 | 219BR | None | N/A |
| Pro MS200 | 219LA | None | N/A |
| ProOne | 400 G1 | None | N/A |
| ProOne | 400 G2 | None | N/A |
| ProOne | 400 G3 20in | None | N/A |
| ProOne | 400 G3 23.8in | Out | N/A |
| ProOne | 600 G1 | None | N/A |
| ProOne | 600 G2 | None | N/A |
| ProOne | 600 G3 | None | N/A |
| HP 18 | - | None | N/A |
| HP 18 | 1000 | None | N/A |
| HP 18 | 1100 | None | N/A |
| HP 18 | 1200 | None | N/A |
| HP 18 | 1300 | None | N/A |
| HP 18 | 5000 | None | N/A |
| HP 18 | 5100 | None | N/A |
| HP 18 | 5200 | None | N/A |
| HP 18 | 5500 | None | N/A |
| HP 18 | 5600 | None | N/A |
| HP 19 | 2000 | None | N/A |
| HP 19 | 2100 | None | N/A |
| HP 19 | 2200 | None | N/A |
| HP 19 | 2300 | None | N/A |
| HP 19 | 2400 | None | N/A |
| HP 19 | 3000 | None | N/A |
| HP 19 | 3200 | None | N/A |
| HP 20 | (All) | None | N/A |
| HP 21 | 2000 | None | N/A |
| HP 22 | 1000 | None | N/A |
| HP 22 | 2000 | None | N/A |
| HP 22 | 2100 | None | N/A |
| HP 22 | 3000 | Out | N/A |
| HP 22 Touch | 3000 | Out | N/A |
| HP 22 | 3100 | Out | N/A |
| HP 22 Touch | 3100 | Out | N/A |
| HP 22 | 3200 | Out | N/A |
| HP 22 | B000 | Out | N/A |
| HP 22 Touch | B000 | Out | N/A |
| HP 22 | B100 | Out | N/A |
| HP 22 | B200 | Out | N/A |
| HP 22 | B300 | Out | N/A |
| HP 23 | R000 | Out | N/A |
| HP 23 | R100 | Out | N/A |
| HP 23 | R200 | Out | N/A |
| HP 23 | Beats N000 | In | Yes |
| HP 23 | Beats N100 | In | Yes |
| HP 23 | Beats N200 | In | Yes |
| HP 24 | E000 | Out | N/A |
| HP 24 | G000 | Out | N/A |
| HP 24 Touch | G000 | Out | N/A |
| HP 24 | G100 | Out | N/A |
| HP 24 | G200 | Out | N/A |
| HP 200 | 205 G1 | None | N/A |
| HP 200 | 205 G2 | None | N/A |
| HP 200 | 205 G3 | Out | N/A |
| HP 200 | 5000 | None | N/A |
| HP 200 | 5100 | None | N/A |
| HP 200 | 5200 | None | N/A |
| HP TouchSmart 300 | 300-1000 | None | N/A |
| HP TouchSmart 300 | 300-1100 | None | N/A |
| HP TouchSmart 300 | 300-1200 | None | N/A |
| HP TouchSmart 300 | 300-1300 | None | N/A |
| HP TouchSmart 300 | 310-1000 | None | N/A |
| HP TouchSmart 300 | 310-1100 | None | N/A |
| HP TouchSmart 300 | 310-1200 | None | N/A |
| HP TouchSmart 300 | 320-1000 | None | N/A |
| HP TouchSmart 300 | 320-1100 | None | N/A |
| HP TouchSmart 400 | 420-1000 | None | N/A |
| HP TouchSmart 400 | 420-1100 | None | N/A |
| HP Touch 500 | 520-1160LA | In | No |
| HP TouchSmart 500 | 520-1000 | None | N/A |
| HP TouchSmart 500 | 520-1100 | In | No |
| HP TouchSmart 500 | 520-1200 | None | N/A |
| HP TouchSmart 600 | 600-1000 | None | N/A |
| HP TouchSmart 600 | 600-1100 | In | Yes |
| HP TouchSmart 600 | 600-1200 | None | N/A |
| HP TouchSmart 600 | 600-1300 | None | N/A |
| HP TouchSmart 600 | 600-1400 | In | Yes |
| HP TouchSmart 600 | 610-1000 | None | N/A |
| HP TouchSmart 600 | 610-1100 | None | N/A |
| HP TouchSmart 600 | 610-1200 | None | N/A |
| HP TouchSmart 600 | 620-1000 3D | None | N/A |
| HP TouchSmart 600 | 620-1100 3D | None | N/A |
| HP 1000 | 1105 | None | N/A |
| HP 1000 | 1155 | None | N/A |
| HP TouchSmart Elite 7000 | 7320 | None | N/A |
| HP TouchSmart 9100 | 9100 | None | N/A |
| HP TouchSmart Elite 9300 | 9300 | None | N/A |
| HP TouchSmart IQ | (All) | None | N/A |
| Compaq 18 | (All) | None | N/A |
| Compaq Presario | CQ1-(All) | None | N/A |
| Compaq Presario | SG2-(All) | None | N/A |
| HP Compaq 4000 | 4300 | None | N/A |
| HP Compaq Pro | 6000 | None | N/A |
| HP Compaq Pro | 6300 | None | N/A |
| HP Compaq Elite | 8300 | None | N/A |
| Omni | 100-(All) | None | N/A |
| Omni | 200-(All) | None | N/A |
| Omni | 27-1000 | None | N/A |
| Omni | 27-1100 | In | No |
| Omni | 27-1200 | None | N/A |
| Omni | 35-5100 | None | N/A |
| Omni Pro | 110 | None | N/A |