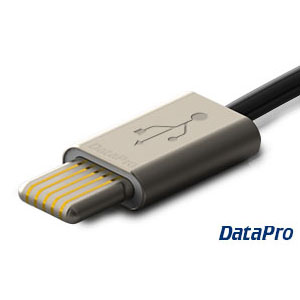 Although not named specifically in the press release, the USB-C format appears to be designed to replace the near-ubiquitous USB Micro-B format in mobile devices. It will be compact (about the size of a Micro-B connector), orientation-free (similar to Apple's Lightning connector), and will support the high-speed USB 3.1 spec at 10 Gbit/s.
Although details are sparse at this point, Intel has suggested that USB 3.1 could carry video in addition to data. If 3.1 can deliver on all of these features, it could make an even more compelling alternative to Thunderbolt.
DataPro will of course be stocking these in a number of standard and nonstandard configurations. Check out our extensive collection of specialty and panel-mount USB cables.
For more information about the current generation of USB 3.0 cables, check out our info page USB 3 Explained!
Update: USB-C has been released! Check out our comprehensive guide on how to use this exciting new technology.