DataPro's new PowerSquid combines the best parts of an extension cord and power strip. It multiplies one outlet into five and acts as an extension cord of about 5 feet. Each end bends to wherever the power cord needs to go, and when you need to switch a plug out the outlet remains easily accessible. Unlike a power strip, the outlets on the PowerSquid will never be blocked by a bulky DC wall charger or other device.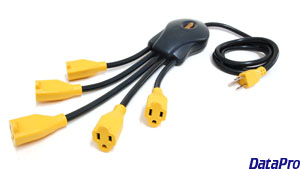 The Power Squid is perfect for home or office use. It can be easily mounted to walls using standard nails or screws, and makes managing various extension cords easy. You can also use it in your workshop or garage to power your tools, door openers, and other powered devices.
See the Power Squid product page for more details.