Please note that due to technical limitations, this coupler does not transmit power, which is necessary for some display adapters (but will work fine with monitors). To extend a DisplayPort source port with power, we recommend a DisplayPort Extension Cable
The easiest way to build DisplayPort into your world is with this handy female-to-female panel-mount coupler. The dual female ports will splice two normal DisplayPort cables, and the panelmounting shell will mount directly to an enclosure or wall panel.
This type of coupler is often featured in home theater installations and other professional-type setups where video sources and displays are separated. It's also quite convenient as an interchangable part in an OEM rig, where repeated insertions might wear on the mounted port and an easily-replacable coupler is preferrable to a complicated retermination.
For best signal quality in a plate-to-plate run, we recommend using one of our DisplayPort panel-mount cables with this coupler rather than two couplers. This type of setup would have one less interconnect, which helps prevent signal degredation.
DisplayPort is a relatively new standard in computer audio/video connectivity, offering resolutions up to 2560x1600 (for 30-inch displays) with uncompressed 5.1 or 7.1 audio in a compact connector.
If you are connecting an HDTV, DVD player, or Blu-ray player, you are probably using HDMI, which looks similar to DisplayPort. We have a full line of HDMI products available, including an HDMI panel-mount coupler.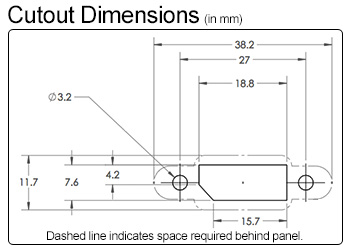 Click here for PDF version