The DataPro 1699 is the USB 3.0 equivalent of our 1599 series, and features a bulkhead-mounting USB A type connector on one side and a standard male USB-B connector on the other. Each connector uses a stylish blue inset to indicate SuperSpeed USB.
USB 3.0 is designed for ludicrous speeds, and our panelmount USB 3.0 cables are rigorously tested to ensure compatibility and performance in real-world scenarios. While the signal types are backwards compatible with USB 2.0, please note that the male USB-B 3.0 connector specifically will not mate with a female USB-B 2.0 connector.
We also carry an A-to-A USB 3.0 panelmount extension cable, should you prefer that over A-to-B.
Please note that USB runs longer than 15 feet from source to device will require the incorporation of an active USB booster.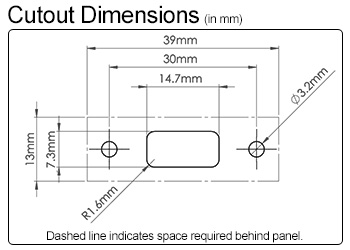 Click here for PDF version