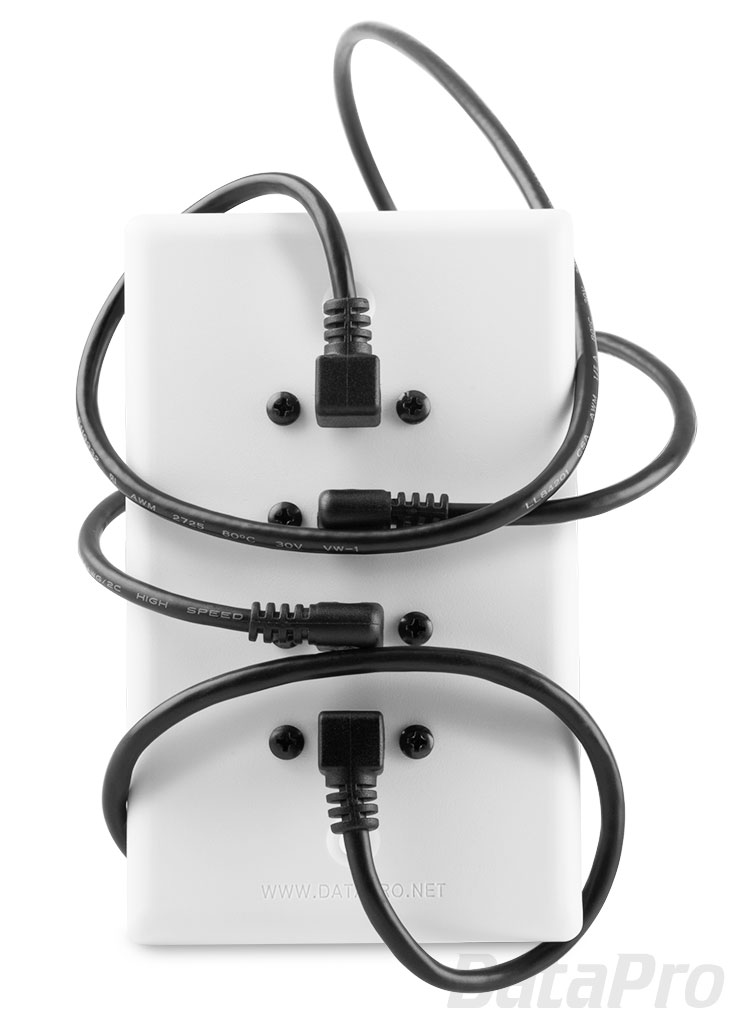 Right-angle cable terminations are a great way to help route cables in tight spaces, relieve strain, and provide a more finished appearance to installations. The term "right-angle" refers to the 90° bend in the connector, which can be in one of four directions: Up, Down, Left, or Right.
To determine the angle of cable you need, you'll first need to know which side of the connector it's being plugged into is "up." This guide will explain how to determine the orientation of a connector, and which type of angled cable you need.
Fun Fact:
The "right" in a right-angle comes from the Latin "rectus," meaning "perpendicular."
Which Way is Up?
The first step in choosing a right-angle cable is to determine the orientation of the connector and the jack it will be plugged into. It isn't always obvious which side of a connector is the top.

Although every connector is different, there are a few common ways to determine the orientation of a connector:


Seams
Many connectors are constructed with a metal shell surrounding the exterior. If there's a seam, it will usually be on the bottom of the connector. This applies to USB, DisplayPort, and HDMI cables, with the exception of full-size USB Type-B.

Note the DataPro logo, which is typically located on the "bottom" of the connector opposite the USB logo.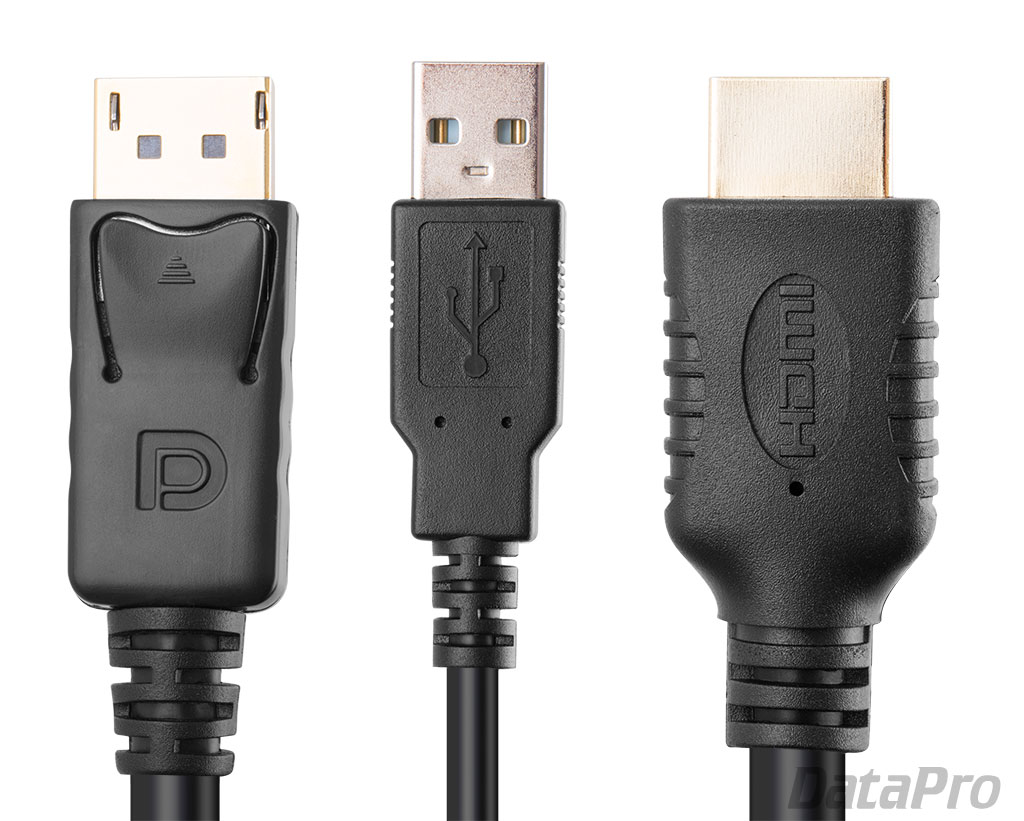 Logos
Not the manufacturer's logo, but the logo of the standard. These will generally appear on the top side of connectors, molded into the hood. This is often seen on USB, DVI, HDMI, and DisplayPort cables, while VGA cables will sometimes feature just an empty square.
Locking Mechanisms
Locking connectors will usually place their release mechanism on the top of the connector.
Notable Exceptions
Unlike other USB connectors, USB Type-B's seam is located at the top. And unlike most other connectors in general, its angled surfaces face upwards as well.

Ethernet connectors - also known as RJ45, are part of a family of connectors known as "modular connectors" that includes the classic phone jack. Modular connectors should technically oriented tab-down, but in practice they are just as often found tab-up.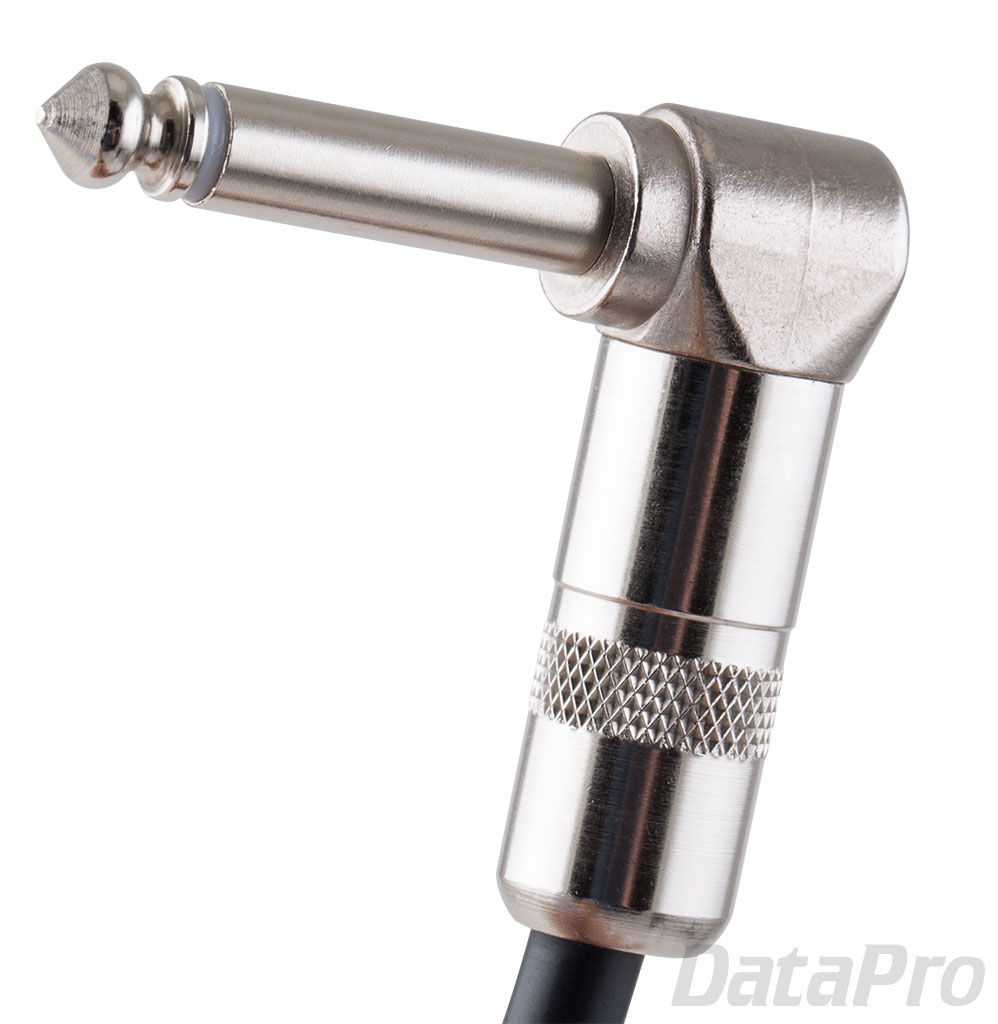 Connectors with No Orientation
Certain Connectors have no orientation, in which case "right-angle" simply means 90° rather than routed to the right-hand side of a mating connection. Examples include antenna or coaxial connectors (TNC, BNC, SMA, N-Type), barrel audio connectors (RCA, TS, TRS, TRRS), and barrel power connectors.
Your Other Right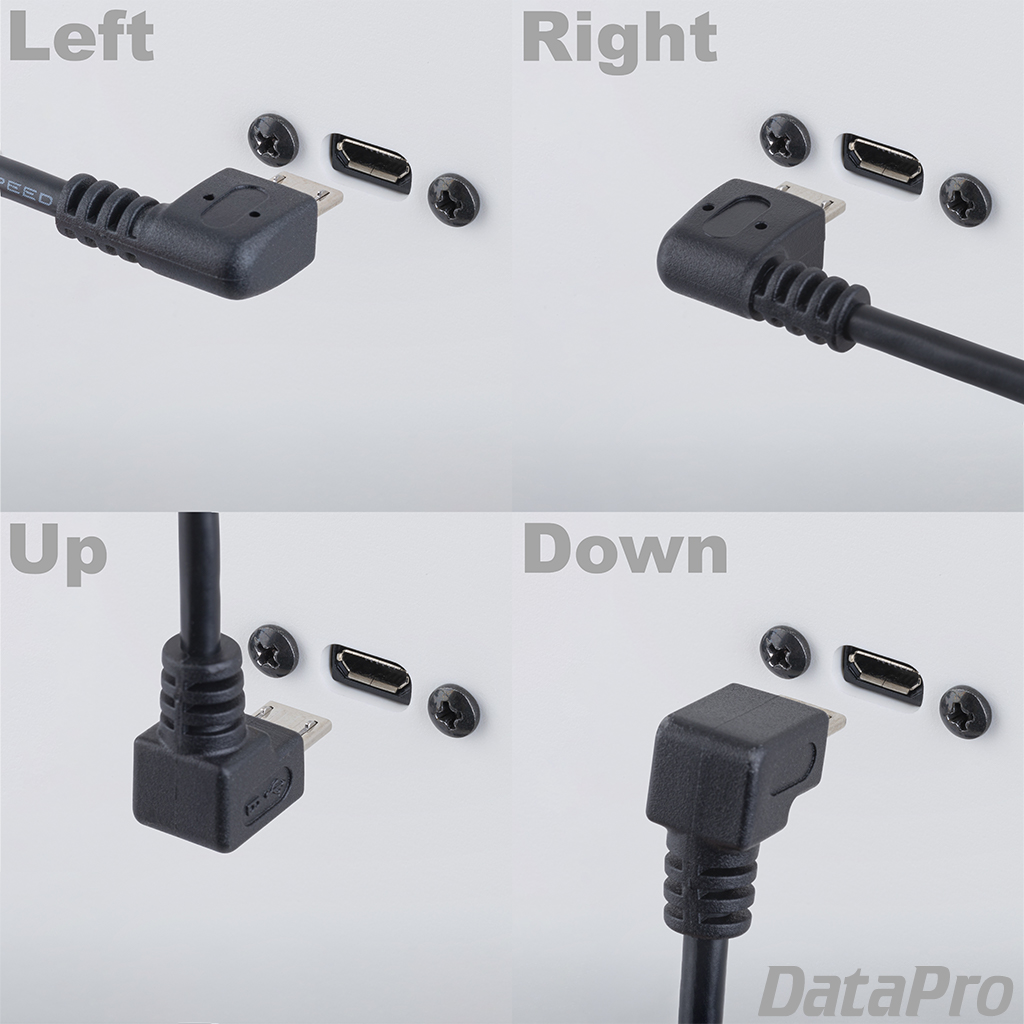 Orientation can vary by manufacturer for a couple of reasons. Some use differing definitions of "up," while others assume the user is looking head-on at the cable connector rather than the receptacle.
DataPro determines orientation by looking at the front side of the receptacle (generally the female connector), with the top oriented upwards, and the direction indicating which way the cable will point when plugged in.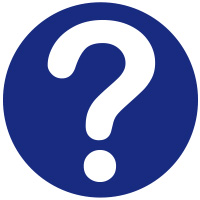 Cable Orientation Chart
Frequently Asked Questions
What are some other names for a right-angle cable?
Angled cables can often be found as "right angle," "low profile," or "90°." They'll also sometimes be called by their orientation, such as "down-angle" or "left-angle."
Why use a right-angled cable?
Angled cables can provide strain relief, make for a more secure connection, and create a more finished appearance when installed.
Which right-angled cable do I need?
Referring on the
chart above
, determine the direction the trailing end of your cable will be oriented once plugged in. For example a laptop sitting on a table will typically use either left or right-angle cables to run cables back and away from it or forwards to the user. If you have a wall plate where a cable will be hanging down, a down-angle cable would probably work best.
What are the disadvantages of a right-angled cable?
If the angle isn't oriented in an optimal direction, it may put additional strain on the cable or connector, and will be harder to route.
Do right-angle cables cause problems like signal loss?
Angling the ends of a cable usually only involves small changes to the connector design, which avoids issues with signal loss, such as might be found with an extension cable or adapter.

Sources: