The DataPro 1122 series cable is a 9-pin extension cable, male to female, with a panel-mount connector on the female end for mounting into a faceplate or wallplate.
It is commonly used to extend a 9-pin cable from a computer to a 9-pin interface device. The 1122 series features a panel-mount FEMALE connector, but most serial RS232 is designed to plug into a MALE connector. To mount a male 9-pin port, see our RS232 Panel-Mount Extension Cable.
This cable is designed to mount securely into any of our DataPro faceplates, and uses the same size of hole as a 15-pin VGA connector. For a single DB09 plate, see our 9-pin face plate.
The wiring diagram is all 9 conductors connected straight-through, pin-to-pin.
We also build this cable in any length you require. We have built this cable in excess of 20 feet for video applications and 250 feet for RS232 serial applications. These lengths will vary depending on the quality of your communications equipment.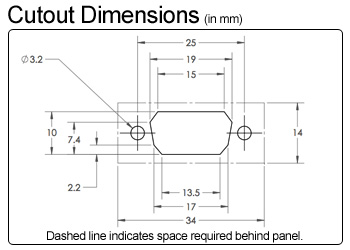 Click here for PDF version