DataPro's 1599-series of cables are USB Type-A Panelmount to Type-B Male, for providing indirect access to a USB device through a wall or bulkhead.
These cables are part of our popular panelmounting USB line, but unlike our standard mounting extensions, the 1599-series adapts from a female A-type jack to a male B-type plug. A-type connectors are the rectangular jobs commonly found on computers, consoles, and "host" devices, while B-type connectors are the beveled square ends commonly found on printers, scanners, and other large accessories.
The female end of this cable has a mounting hood, designed for easy installation on a face plate, panel, OEM enclosure, or surface-mount box. It has embedded nuts and includes mounting screws, and the cutout dimensions are provided below.
These cables have a black PVC jacket, and are shielded by both a foil wrap and a braid wrap. This is the highest grade of shielding available for this type of cable.
This cable is USB 2.0 High-Speed compatible.
Minimum depth required: 38.0 mm (behind the plate)
Similar to this cable but without the A/B adaption, we also offer a panel-mount B to USB B cable and a panel-mount A to USB A cable.
For information about selecting, installing, and using wall plates in your applications, see our Guide to Wall Plates.
Please note that USB runs longer than 15 feet from source to device will require the incorporation of an active USB booster.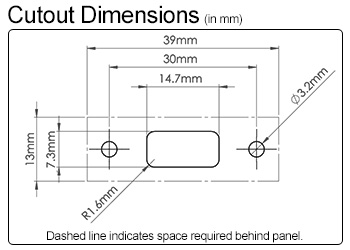 Click here for PDF version