Custom Wall Plates & Panel-Mount Cables
DataPro Tech Info > Custom Wall Plates & Panel-Mount Cables
A Complete Design and Installation Guide
| | |
| --- | --- |
| | |
---
WHY USE WALL PLATES?
Whether you need VGA ports for lobby displays or overhead projectors, USB ports for special computer enclosures, Ethernet ports for clean networking, or anything else, DataPro can cut a wall plate with just the right configuration for your application. We offer total solutions for medical and industrial applications, schools, conference rooms, home theaters, and more.

DataPro International is pleased to offer the widest selection available of stock and custom-built wall plates for mounting your computer cables in walls, floors, ceilings, decks, tables, and anywhere else. Our plates are cut with high-durability plastic or metal, for a sturdy and attractive wiring solution. Avoid unsightly holes and cumbersome conduit enclosures by mounting your cabling in a DataPro face plate.
---
WHAT ARE PANEL-MOUNT CABLES?
For additional convenience, we stock a wide variety of panel-mount cables for each of our connectors. You can avoid messy cord bunches and maintain cost efficiency by ordering the cables you need in the lengths that work for you. Or, for those special situations, we can custom-build most any cable needed to complete your run.

The advantage of our panelmount cables is that they have molded hoods with mounting screws, so the cable can attach directly to the face plate without splices or soldering. This saves you the work of having to do on-site termination, and improves signal strength and quality by avoiding couplers and pass-through connectors. We strongly discourage the use of any pass-through connections, which is why we do not offer plates with pre-installed ports.
---
CAN I GET CUSTOM PLATES MADE?
If the plate you are looking for is not a stock item, we can design and cut one to match your unique needs. Our on-site machine shop produces high-quality plates with great turnaround and competitive pricing. See our custom wall plate page for more information.

Available in dozens of sizes and materials, we can mix and match any combination of ports, depending on how they fit, so you can make the most efficient use of your space. We also offer 'Decora' style face plate inserts that can be custom-cut with whatever ports you need, and then fitted with a standard decora mountable plate. While they do offer much less space than independent plates, they can be easily installed into an existing multi-plate panel.

If you would like to design your own plate, we would be happy to fabricate it for you. Send us a drawing or connector list (from the selection below), and we will provide you with pricing and lead time.
---
WHICH CONNECTORS ARE AVAILABLE?
Stock and custom plates are available with any of the following connectors:

HDMI - for new high-definition digital video and audio
DVI - for digital LCD screens, plasma televisions, and other flat-panel displays
VGA - for analog CRT monitors, projectors, and some LCD screens


USB - for all high-speed peripherals, in both 'A' type and 'B' type
IEEE-1394 - for all FireWire (iLink) cameras, camcorders, and other devices
PS2 - for PC keyboards and mice, as well as many barcode scanners


CAT5 - for Ethernet networking, internet, and phone systems
DB25 - for 25-pin parallel devices, namely LPT printers
DB09 - for 9-pin serial devices, including GPS systems


BNC - for 802.11 antenna cables, composite video, and older networks
F-Type - for coax wire from cable TV or broadband


RCA - one for composite video, two for stereo audio, or three for A/V or component
S-Video - for TV displays from VCRs, DVDs, and some graphics cards
3.5mm - for audio signals (i.e. headphones) in mono, stereo, or quadraphonic
---
CAN I USE KEYSTONE CONNECTORS?
For an easy, snap-in connection, we offer a variety of Keystone-type connectors in female/female splices that instantly click into a Keystone plate. The plugs we have in stock are:

PS/2 Keyboard/Mouse
S-Video (SVHS)
F-Type Coax (for TV)
BNC
RCA (in various colors)
RJ11 (telephone)
CAT5e (as pass-through or punch-down)
CAT6 (as pass-through or punch-down)

Many connectors, including USB and VGA, are too large to install via Keystone, and must be mounted in their own cutout.
---
HOW DO I ORDER CUSTOM PLATES?
You can now build your own custom plate on our website with our easy-to-use Custom Wallplate Designer. Simply select a plate style, add your holes, and then add cables and couplers. When finished, add the plate and other products to your shopping cart with a single click.

The Plate Designer utility does not cover every possible plate we can build. If you cannot design your ideal plate in Plate Designer, please contact us for a quote and we will happily assist you.
---
HOW MUCH DO CUSTOM PLATES COST?
While particularly complicated or unique plates can only be quoted on a case-by-case basis, standard cutouts can be custom-configured with a fairly regular pricing schedule. The following reflects the base cost of the plate material, plus $1.00 for every cutout:

Plastic
Aluminum
1 Gang
$14.00
$16.00
2 Gang
$18.00
$20.00
Horizontal
N/A
$20.00

For example, a 1-Gang plastic plate with a VGA and two DVI cutouts would cost $17.00 ($14.00 + $1.00 x3), and a horizontal plate with two HDMI cutouts would cost $22.00 ($20.00 + $1.00 x2).
---
HOW SOON WILL MY ORDER SHIP?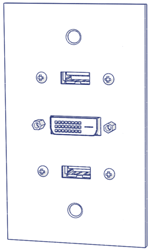 For the most common types of cable runs, including USB, VGA, HDMI, and PS2, we stock dozens of different cable and plate configurations for the utmost in flexibility and on-demand solutions. Because we keep stock of so many lengths and styles, same-day shipping is available on most of our runs. If the plates and cables you need are in stock, your order will most likely ship the same or the next day.

Depending on the size of your custom order, we generally offer turnaround of specially-built cables (less than 10 pieces) in 1 to 2 days and custom-cut plates (less than 250 pieces) in 0 to 2 days. Larger orders may require more time, depending on the quantity and diversity of the products. We encourage you to order earlier rather than later, as high-priority turnarounds may incur rush fees.
---