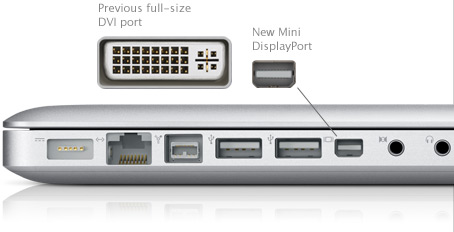 DataPro is working hard to bring you connectivity for all the latest technologies, including DisplayPort and Mini-DisplayPort.
With DisplayPort video becoming increasingly popular on new displays, Apple has jumped in and replaced the DVI-I and Mini-DVI ports on their MacBook notebooks with Mini-DisplayPort. If you purchase a new MacBook now, you may find yourself unable to connect to many external displays.
Don't worry, DataPro has you covered! We will soon offer a wide variety of DisplayPort and Mini-DisplayPort adapters and cables to fill all your connectivity needs. We already offer standard DisplayPort cables and DisplayPort panel-mount extension cables, and will continue to expand our DisplayPort product line to suit all your connectivity needs.
Update: Our Mini-DisplayPort extension cables are now in stock! We also have three types of Mini-DisplayPort adapters in stock.