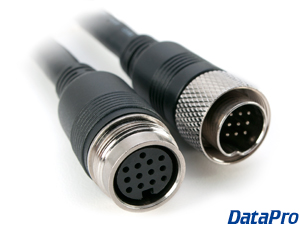 Please note that the splice connector does not conduct the ID and DDC channels (pins 5 and 9) of the VGA signal. Most computer monitors have no issue with this, but some television and projector models cannot detect a signal without these channels.
The DataPro SVGA spliced cable is used for long runs of VGA, XGA, or SVGA monitor cable, and is a non-terminated style cable for use in wire runs through conduit, walls, boats, etc.
The first piece of the set has a male VGA connector and a locking male circular connector, available in various lengths. The second piece has a female circular and a male VGA connector, and measures approximately 18 inches long. Both parts are included when you order.
By splicing the two VGA connectors with the circular connector, this cable can be run through wiring holes as small as 0.75" (19mm). Once reassembled, the splice connectors screw-lock together for a tight and secure seal.

Splice connector fits through 3/4" conduit!
The cable is made of 75 Ohm video-grade coaxial wire. This low-signal-loss cable allows lengths of up to 200 feet in most cases, with good signal strength.
We also offer spliced, non-terminated VGA cables in the following configurations:
If you don't need the non-terminated splice, see our standard VGA male/male cable.