The 1164 is an S-Video Panelmount Cable, with a standard 4-pin mini-din plug (male) connector at one end and a 4-pin mini-din female panel mount connector at the other.
These wall-mounting video cables are ideal for mounting video ports into face plates and wall plates for clean and secure termination. The wire can be run through walls, ceilings, and and conduits to remote locations—perfect for boats, offices, and home theaters.
When combined with a wall plate, these cables offer convenient access to mounted video displays or cameras, such as in classrooms, presentation environments, and video labs.
The cable is made of 75 ohm mini-coaxial video wire, with individually-shielded conductors for the luma and chroma video signals. This low-loss cable allows optimal signal strength at lengths of up to 200 feet (in most cases).
S-Video (SVHS) was typically used in high-end video applications and equipment, and on many camcorders. It is still common as a legacy connector, but has generally been superceded by component (Y/Cb/Cr) video and digital formats.
Additionally, if you have legacy Macintosh peripherals in your setup, the 1164 can act as a panel-mount ADB cable.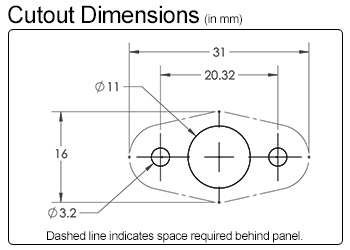 Click here for PDF version