Expand your audio wiring options with the DataPro panel-mount audio extension cable. This cable is used to provide a bulkhead or face-plate mountable extension for remote access in home theaters, recording studios, classrooms and boardrooms, and more!
The 3.5 mm connector is commonly known as a headphone style or Sony Walkman connector. This cable features a standard male 3.5mm audio plug on one end, and a female 3.5mm wall-mount audio jack on the other end.
These cables are specially designed to install in our 3.5mm audio face plates, but can be mounted in any 1/4" hole, in material up to 2.5mm (0.10") thick.
For RCA connections in a single molded cable, see our 1181 cable.
For dual-RCA audio plus a third coax cable for video signal (3 RCA heads at each end), see our 1183 series cable.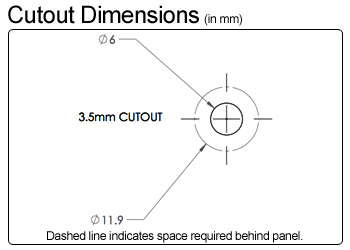 Click here for PDF version