The DataPro 1593 series cable is a USB type A/A extension cable. It has male and female type 'A' connectors.
The USB A connector is the rectangular plug commonly found on computers, hubs, and other "host" interfaces. This cable extends from a host and provides another female A port elsewhere, for longer distance USB runs.
This cable is completely transparent to the USB host and device, and can work with any operating system or USB accessory. It is ideal for situations such as distancing a keyboard and mouse from the CPU, or moving a printer to a more convenient location.
Please note that USB runs longer than 15 feet from source to device will require the incorporation of an active USB booster.
This cable is compatable with USB 2.0.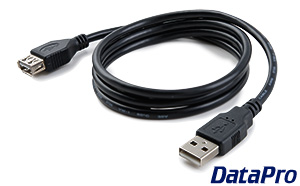 1593 in Black