The DataPro VGA Panel-Mount extension cable is used to extend your existing VGA cable and mount a female port remotely on a VGA wall plate.
This uses the same high-grade wire as our standard VGA extension, except that the female end has been converted to a panel-mountable connector and includes the long jack-screws needed for mounting to a face plate or wall plate.
The female end is a non-hooded panel-mount VGA socket, which functions as a low-profile bulkhead connector. The male end is a standard VGA molded 15-pin (3-row) connector.
The cable is made of 75 Ohm video-grade coaxial wire. This low signal loss cable allows lengths of up to 200 feet in most cases, with good signal strength.
If your conduit or wiring environment can't accommodate a full VGA connector, we also offer non-terminated VGA panel-mounts cables with a convenient splice for easy termination.
For information about selecting, installing, and using wall plates in your applications, see our Guide to Face Plates and Panel-Mount Cables.
Please note that 1F and 2F lengths of this part (1152-01C and 1152-02C) do not include ferrites, so as to preserve their flexibility.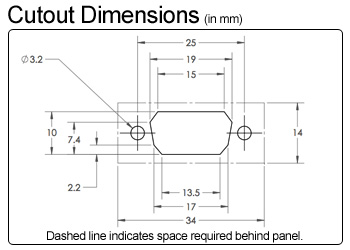 Click here for PDF version