Categories:


> <!PARENTS>USB 2.0 Cables, USB Panel-Mount Cables, Panel-Mount USB-B Cables
By popular demand, a panelmounting B-type USB cable that terminates in a male A-type USB. Compatible with our complete line of faceplates and custom wall plates, this addition to our USB panelmount line makes the connections that you need in the lengths you need them. &nbsp
1589-01C
USB Panel-Mount B to A (M) CL2
1 ft
$
11.95
272 in stock
1589-02C
USB Panel-Mount B to A (M) CL2
2 ft
$
13.95
83 in stock
1589-03C
USB Panel-Mount B to A (M) CL2
3 ft
$
15.95
535 in stock
1589-00C
USB Panel Mount B to A Cable
Custom build at $14.95 + $1.00 per foot.
The DataPro USB Panelmount B to A cable is a high-speed USB 2.0 cable designed to allow remote access to USB devices with a standard USB-B type connection. Unlike our standard USB panelmount extensions, the panelmount B to A cable converts connection types inline, for applications that would require it.
This bulkhead mounting cable will attach to any of our face plates that feature a USB-B type cutout, and the male end will connect to any USB host or device that sports the ubiquitous USB-A port.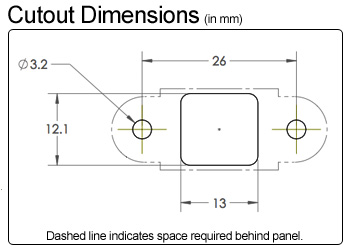 Click here for PDF version
---
Features:
USB 1.1/2.0 High-Speed Compatible
CL2 rated for in-wall use
Embedded 4-40 nuts with mounting screws included
---
Specifications:
Max speed 480Mbit/s
Allowable panel depth: 4.5mm (full mating)
Recommended screw installation: hand tighten, 2.0 in-lbs maximum torque