USB Panel Mount B to Socket
The mate to our popular 1590-series, this panelmount cable will mount a USB B-type port to a faceplate or wall plate, and terminate directly into a motherboard or PCB socket.
The socket connector is a standard 2.54mm pitch and 5-pin connections, including signal ground and backshell ground.
For information about selecting, installing, and using wall plates in your applications, see our Guide to Wall Plates.
To design your own plastic or metal plate for this type of cable, check out our custom wall plate designer. It's easy!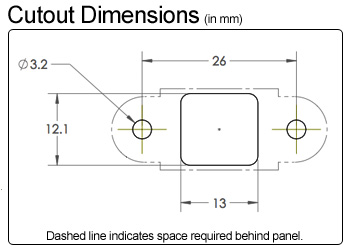 Click here for PDF version
---
Features:
USB 1.1/2.0 High-Speed Compatible
CL2 rated for in-wall use
Embedded 4-40 nuts with mounting screws included
---
Specifications:
Max speed 480Mbit/s
Allowable panel depth: 4.5mm (full mating)
Recommended screw installation: hand tighten, 2.0 in-lbs maximum torque