USB Panel-Mount to 5-pin Socket
Available with an unpolarized connector!


This cable can be built with an unpolarized 2.54mm header connector. Contact us for details.
The DataPro 1590 USB cable is a jumper cable that provides a panel-mounting USB port to any device with PCB headers, such as any modern motherboard or a custom OEM device.
This cable features a 5-pin PCB connector (header) at 0.100 pitch, with separate signal and wire grounds. We also carry a Panelmount USB to 4-pin cable for combined grounds, for terminating on a 4-pin board.
This external connector includes two mounting screws for secure attachment to a chassis, frontpanel, or backplane. It is a panel-mount USB A-type female with size 4-40 screws, and the nuts are inset in the molded hood so they won't get lost. No threading is required on the mounting panel.
This product supports USB 2.0 high-speed data transfer rates.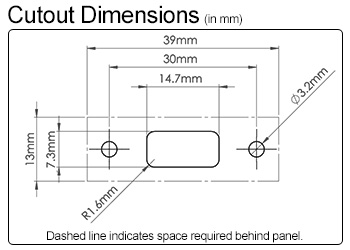 Click here for PDF version
---
Features:
USB 1.1/2.0 High-Speed Compatible
CL2 rated for in-wall use
Embedded 4-40 nuts with mounting screws included
---
Specifications:
Max speed 480Mbit/s
Allowable panel depth: 4.5mm (full mating)
Recommended screw installation: hand tighten, 2.0 in-lbs maximum torque