The DataPro VGA Dual Panel-Mount cable will connect two mounting receptacles, such as face plates or bulkhead panels, through conduit or tight quarters. The completed assembly features two female VGA connectors with DataPro's unique panel-mounting hood, ideal for low-profile installation.
The mounting VGA connectors are standard 15-pin High-Density D-Sub connectors, but without the bulky backshells of normal assemblies. They include mounting screws and nuts, and will fasten securely to any cutout or panel of the appropriate design, including any of our custom wall plates.
This cable assembly includes a breakaway splice using mating DIN connectors, so that the long portion of the cable can be pulled through a conduit as small as an inch in diameter, then reconnected with no soldering or termination by the installer. With a press and a twist, the complete VGA assembly is terminated and ready for video. Easy peasy!
This is the same cable as our spliced VGA panel-mount extension, except that the both ends have been converted to a panel-mountable connector and include the long jack-screws needed for mounting to a face plate or bulkhead
The cable is made of 75 Ohm video-grade coaxial wire, triple-shielded with separate drain wires for the Red, Green, and Blue data lines. This low-loss cable allows lengths of up to 200 feet in most cases, with good strength and fidelity.
For information about selecting, installing, and using wall plates in your applications, see our Guide to Face Plates and Panel-Mount Cables.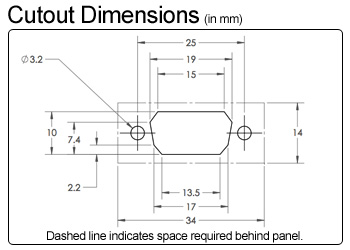 Click here for PDF version
Please note that the splice connector does not conduct the ID and DDC channels (pins 5 and 9) of the VGA signal. Most computer monitors have no issue with this, but some television and projector models cannot detect a signal without these channels.