DataPro's 1169-series is a panel-mountable PS2 extension cable, designed for installing a PS2 jack in any suitable plate, panel, or enclosure. Ideal for remote connections to keyboards and mice from older Windows/Linux machines, these mounting cables can turn a mess of wires into a clean and easily-accessible interface for your hardware.
These cables feature a bulkhead-mount female PS2 connector on one end, and a standard male PS2 connector on the other. The connectors are 6-pin Mini-Din (MD06), and the wiring pinout is straight-through.
We also build this cable in any length you require.
With modern computer equipment, there should be no signal loss out to 25 feet or so, and we have built this cable to as long as 60 feet with no degredation; however, this does vary widely depending on a number of factors, especially the quality of the computer and keyboard.
To connect a mounted PS2 jack to a computer, you'll want to use a PS2 male/male patch cable.
For information about selecting, installing, and using wall plates in your applications, see our Guide to Face Plates.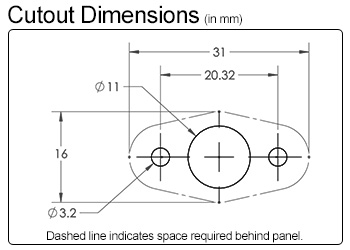 Click here for PDF version