The DataPro 1023-series is a 9-pin extension cable with a panel-mount connector on the male end for installing into a faceplate or wallplate. With a cable like this, you can directly access a device or computer from a remote location, without the need for on-site termination.
Panelmount cables provide the convenience of remote access wherever you need it—bridges and cockpits, factory floors, server closets, maintenance hatches, and elsewhere. They feature low-profile connectors with mounting hardware for direct and secure attachment to a custom enclosure, front panel, or serial wall plate.
The 9-pin D-Sub connector is most commonly used on RS232 serial devices, such as GPS transponders, modems, sonar/radar arrays, and industrial equipment. As a distinguishing feature, RS232 typically utilized the male connector on hardware and the female connector in cables (the opposite of other connection standards).
This cable will likewise mount a male 9-pin connector, emulating the presence of a computer or RS232 device. The non-mounting end is female, which will plug directly into the remote computer or device, for a simple and straight-forward solution.
If you wish to have a female connector mounted, see our 9-Pin Female Panel-Mount Extension Cable.
The wiring diagram connects all 9 conductors straight-through, pin-to-pin. This will preserve the serial, null-modem, or other pinout of the cables attached to it.
We also build this cable in any length you require. Our customers have successfully run our RS232 cables in excess of 250 feet, although overall signal strength depends on a variety of factors.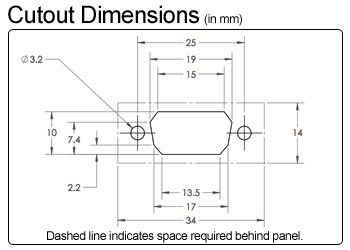 Click here for PDF version